Kerang Rabbit Control Program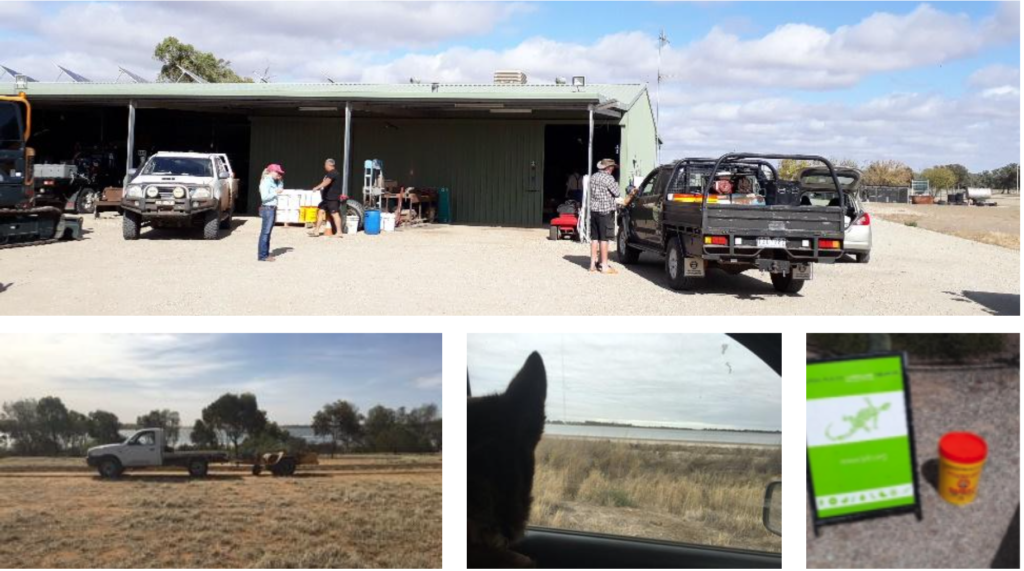 Now in its third year, this project works with landholders in the important Kerang Ramsar Wetland area, providing support and product to landholders to conduct rabbit control on private land and collaborates with agencies such as North Central CMA and Parks Victoria to align control programs for maximum landscape benefit.
LPLN has built strong, collaborative relationships with NCCMA and land management agencies active in the Kerang region. Beginning in 2019, LPLN has developed a community approach to rabbit control in the area, focussing on engaging private landholders  in training, awareness and providing community baiting programs that align with annual baiting programs run by NCCMA and Parks Victoria on public land.
LPLN has worked with the local community to gain trust and established community license to work with landholders toward collaborative control actions that align with local public land managers. To date, due to this community license, community baiting programs in 2020 and 2021 have provided access to 44 landholders or properties and delivered the following outcomes:
Engaged 29 landholders and private land managers in 2020 and 28 landholders in 2021
Facilitated and assisted in the delivery of more than 2200 hectares of direct bait treatment 
Impacted 16 000 hectares of private land
Provided chemical handling training and accreditation to 18 local land managers in the area in order to participate in the programs
Provided assistance to 22 local land managers in designing and delivering individual pest management plans
Created a strong link between community and public land management programs that has provided effective rabbit control across the Kerang Ramsar area through aligned public and private pest control program
Loddon Plains Future Farming Regenerative Agriculture Group
The Loddon Plains Future Farming Regenerative and Sustainable Agriculture Group covers a wide area around Bridgewater ranging from Newbridge in the south, Serpentine in the north, Yarraberb to the east and Kingower in the west. 
The group has developed an action plan that will guide the group's activities over the next two years. The activities chosen are based on soil types, climate, local knowledge and experience. 
The North Central CMA's Regenerative Agriculture Project is funding implementation of the plan to enable the group to build awareness, knowledge and skills in regenerative agriculture. The activities focus on building or maintaining soil carbon, minimising wind erosion and maintaining or increase native vegetation and biodiversity on-farm.
Stay up to date with our Loddon Plains Future Farming Group EVENTS Page
Group Objectives 
To improve knowledge of soil health and structure including how to maximise rainfall infiltration, build soil carbon and build topsoil
To improve knowledge of growing and utilising grasses for livestock while maintaining ground cover 
To increase native vegetation on-farm.
SUMMARY OF ACTIVITIES
The group identified a series of activities that they would like to undertake in the next two years to address the land management issues they are facing on their farms. The activities focus on workshop and demonstrations to improve knowledge and awareness of soil health and grazing management to improve soil health as well as animal nutrition and climate change adaptation. As part of the funding requirements, the group is required to do a minimum of 10 soil tests.
These activities have been designed to align with the objectives of the Regenerative Agriculture Program:
Increased awareness, knowledge and understanding of soil carbon threatening processes and management practice and have improved capability to change practices to maintain or increase soil carbon on-farm
 Increased awareness, knowledge and understanding of wind erosion threatening processes and management practices and have improved capability to change practices to minimise or mitigate wind erosion on-farm
Increased awareness, knowledge and understanding of vegetation, biodiversity and management that maintains or increases native vegetation and biodiversity on-farm.
The main land use is mixed farming comprising grazing sheep for wool production and prime lambs, and cropping. There is also beef cattle grazing. Cereals, oilseeds and legumes are grown along with lucerne for grazing and hay production. 
Group members are diverse with a range of cropping, pasture and mixed farming as well as artisan, horticulture and niche farming operations. With members at different stages of regenerative farming practices, from beginning their journey to some that are advanced in the adoption of their practices.
To keep up to date with the Loddon Plains Future Farming Regenerative Agriculture Group or LPLN's commitment to Sustainable and Regenerative Agriculture visit:
https://www.facebook.com/groups/lplnag
Group Activity focus
Soil testing & interpretation workshop
Soil testing on farms program
Soil pit demonstration and workshop
Farm design workshops and development     
Pasture cropping for soil health – workshop and demonstration
Grazing management to maintain ground cover – workshop and demonstration
Climate adaptation workshops
Native vegetation on farm – planning and design sessions
Grazing Management for Nutrition
Dung beetle's workshop and property visit
LPLN Volunteer Bird Monitoring Program
The LPLN Volunteer Bird Monitoring project is part of the Loddon Plains Landcare Network's aim to develop a greater understanding of the biodiversity within the Network's area. The community bird monitoring project will form a baseline for ongoing data collection to observe trends and changes in bird numbers and biodiversity. Monitoring will be undertaken at 45 sites ranging from high quality remnants to isolated corridors.
Data is collected by local community volunteers every season through the 2 hectare, 20 minute bird survey methodology.
An initial data survey was undertaken by Chris Tzaros (Birds, Bush and Beyond) in summer 2014 to set the program up and data is submitted to Birdlife Australia, contributing to a national dataset.
If you are interested in participating in the bird monitoring please get in touch.
All, levels are welcome to start participating in the program, with opportunities to learn from or accompany more experienced volunteers to develop knowledge.
Pale Yellow Water Lily monitoring – Gunbower Creek
Wheel Cactus control
Salisbury West Connection Corridors
Loddon Plains Landscape Assessment and Stories Project